SISTERLOOPS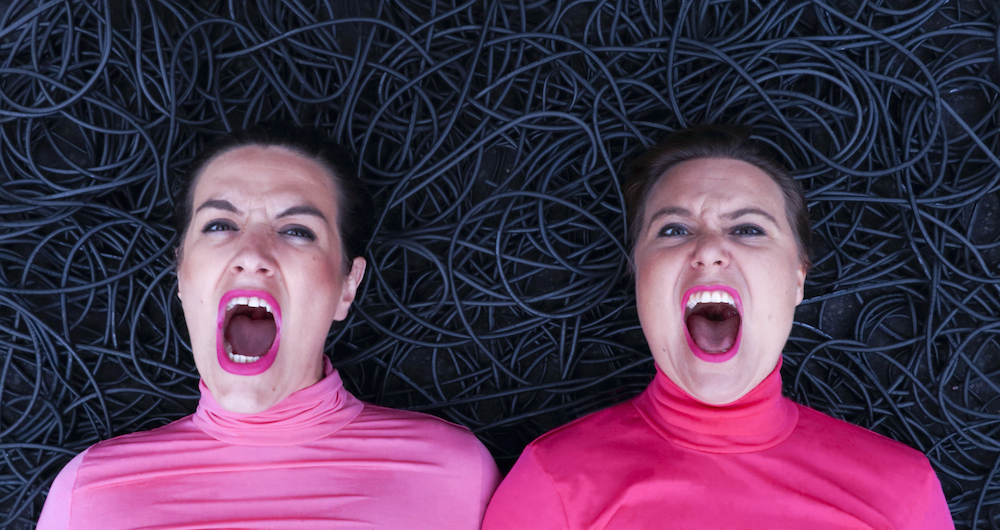 SISTERLOOPS are nasty academics
strictly wild, brutally feminine
we are amplified knives
material – cuts and whines, scratches, bursts and shrieks_
physical – direct action_ savage_
script / lyrical / narrative_
who speaks and who makes noise?_
SISTERLOOPS is a performative sound art- and noise duo, in the field of experimental music.
The duo was formed in 2013 and is a collaboration between the two artists, Marie Gavois and Alexandra Nilsson, based in Germany and Sweden.
For SISTERLOOPS, sound, action and image are always equal components of their work.
They expose details and frictions; they turn severity into wilderness.
– creating artificial sound space – enlarge and visualizing sound – aggressive gestures –
brutality – the sensibility of the specific – manual, analogue loops –
SISTERLOOOPS' work explore sounds in combination with movement, action and image by using choreography, themes of brutality and aggressiveness as well as sensitivity, sensuality and sexuality.They come from a place of curiosity in exploring and investigating sounds and their inherent and possible meanings in depth. Expanding and projecting, enlarging the smallest and closest sounds, turning them into harsch and nasty expressions as well as questions about femininity.
Intrusively embodying the sound, claiming space with acts in a musical context. Their performances are dominant, choreographed power with multilayered meanings. Sound contra movement, image contra sound.